E-Learning Software That Really Works!
iSpring Converter Pro 8.1 - Convert PowerPoint to Flash, HTML5, and Video
Leading technology for converting .ppt and .pptx presentations, preserving all effects: transitions, animations, and even triggers!
Integrated Right into Your PowerPoint
Guaranteed to Preserve All PowerPoint Effects
Presentations Work Flawlessly on All Devices
Platforms supported: Windows PC, Apple Mac, iPad, iPhone, Android, Windows Phone
iSpring Presenter 8.1 - Video Presentation Software for PowerPoint
Turn your message into a video presentation fast and easy right in PowerPoint.
iSpring gives you powerful capabilities to create interactive online presentations. Right in your PowerPoint. Fast and easy. No training required!
Rapidly create interactive presentations in PowerPoint, enhance them with rich media, branch viewing scenarios, add polls and surveys, and immediately share them all worldwide.
iSpring Suite 8.1 - E-Learning Authoring Supercharger
Fully-stocked e-Learning authoring toolkit for PowerPoint. No training required to start!
Perfect Integration with PowerPoint
Take advantage of the most powerful e-Learning toolkit for PowerPoint to develop quality courses, video lectures and assessments that will work on any desktop, laptop and mobile platform.
Create Video Lectures. Synchronize your video with your PowerPoint slides and publish it into a video presentation format to reach millions of viewers online.
iSpring Quiz Maker 8.1 - The Quiz Maker People Love to Use
Customizable, impressive, a mobile-ready quiz building tool that ensures e-Learning success.
Develop Quizzes in Minutes! iSpring Quiz Maker 8 saves you time and lets you create sharp surveys. Powerful and robust, it's amazingly easy to use.
Keep your learners engaged with highly-energized content! iSpring's test maker allows you to make a quiz look remarkable and add vitality to your e-Learning.
Create Remarkable Online Quizzes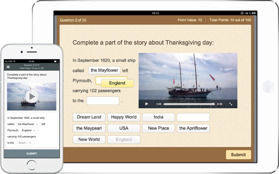 iSpring TalkMaster - Made to Train Communication Skills
iSpring TalkMaster helps build conversation simulations that effectively train and assess communication skills.
Instantly Create a Dialogue Scenario iSpring .TalkMaster includes a dialogue tree that allows you to create various scenes and add links between them.
Apply different colors to different branches to highlight right and wrong options. Even the most complex branching conversation scenarios are kept simple thanks to this intuitive visual interface.
Design Realistic Scenes iSpring TalkMaster includes an extensive library of characters and backgrounds to develop realistic dialogue simulations.